LED panels are lighting fixtures that utilize Light Emitting Diodes (LEDs) to provide illumination. They are designed to be mounted on ceilings and are commonly used in various indoor settings such as offices, commercial spaces, schools, hospitals, and homes. LED panels have gained popularity as a more energy-efficient and environmentally friendly alternative to traditional fluorescent or incandescent lighting.
Designed to mimic sky-like lighting, Sky LED panel lights create a serene and relaxing atmosphere in interior spaces. Popular for their unique lighting effects, these innovative Sky LED panels mimic the natural beauty of the sky, making them a stunning addition to modern interiors.
Sunsylux is a specialist manufacturer specializing in LED panel lights, frameless sky LED panels, and frame sky LED panel lights can be found at Sunsylux.
- Different images printing acceptable
- High bright LM-80 listed SMD4014 LED chips
- High-end PMMA nanometer LGP
- No shadow, no dark area
- Frameless modeling, novel in shape
- Dimmable solutions support Triac, 0-10V /1-10V,
DALI dimming optional, tunable white adjusted
by DALI control DT8 or remote control
- RG0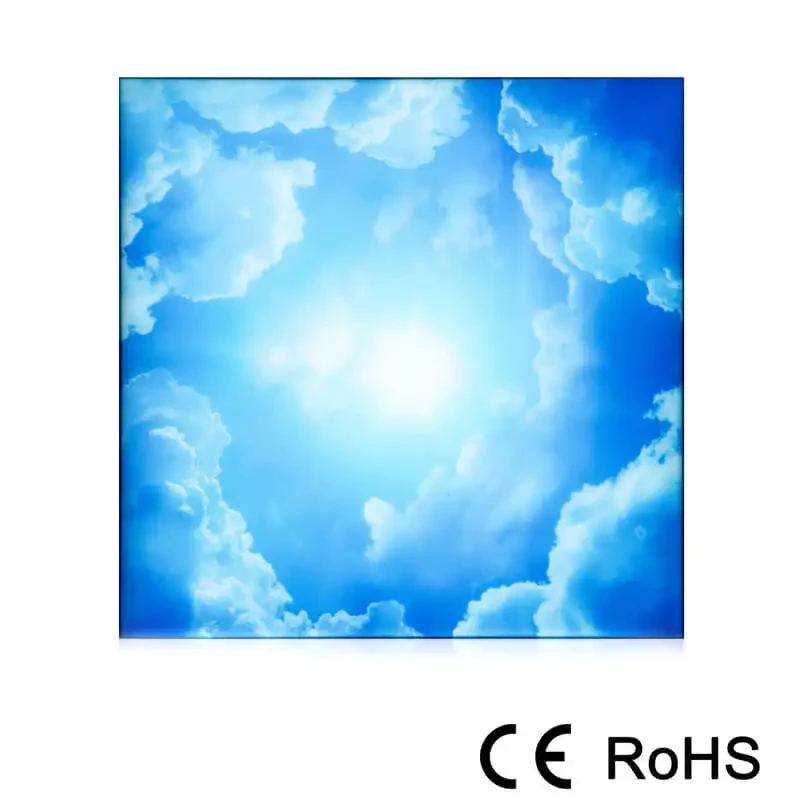 The maximum size for one panel can be made 2.4m by 1.2m, you are able to make countless panels splice into different patterns you require. For the patterns, we use spray technology instead of the soft membrane to improve the quality and guarantee more than 5 years do not easily deteriorate. With the DALI DT8 controller adjust different color temperatures and dimmable according to your applicating scenes.
● Feature architectural LED lighting, with sky printing, not only sky patterns, other patterns are available to send us to print on the panels.
● Tunable white, dimmable, RGBCW, and other customized functions are available at your request.
● Compliant with CE and Rohs certificate.
● The sample is available for you to test and with fast delivery within 30 days for bulk orders.
- Sky printing
- 100% PMMA non-yellowing light guide
- Flicker-free
- Long lifetime 50000H
- 5 years warranty
- RG0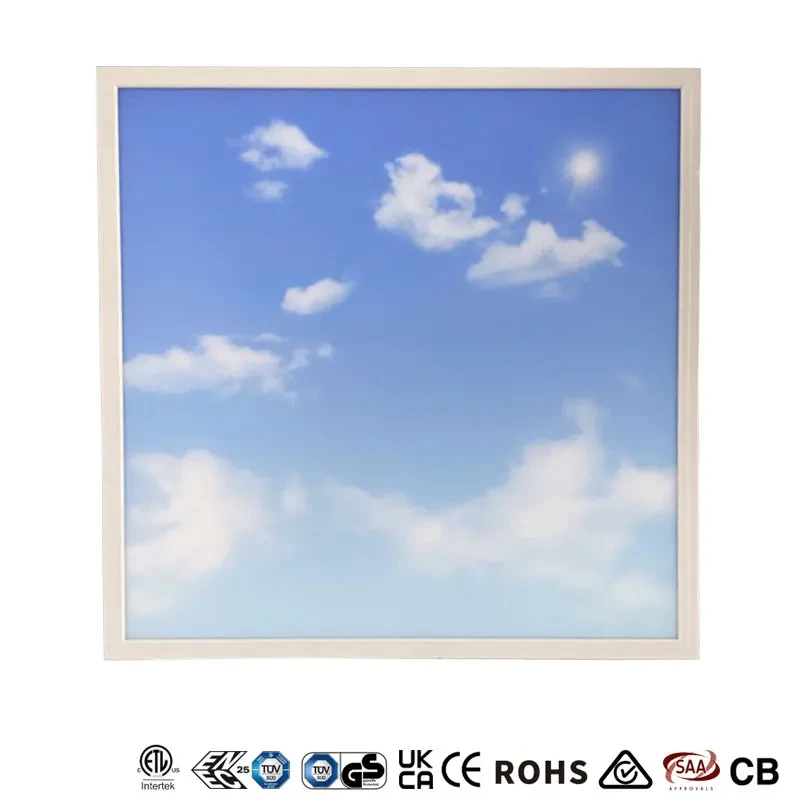 Product Details
The sky-led panel light is visually attractive for the commercial building, interior offices, and the big shopping mall. Patterns of sky panel light are available, please send us the picture you are interested in when consulting to customize your exclusive sky panel light.
● Energy-saving and reliable LED panels.
● Ultra-thin and flat design.
● 100% non-yellowing PMMA light guide plate.
● High power factor over 90% no flickering driver.
● White, black, or silver finish aluminum frame, rustless back cover.
● Excellent heat dissipation performance.
● Long life span over 50000H, 5 years warranty, perfectly reducing the maintenance.
● With advanced SMD LED technology edge-lit LED panels, high color rendering index value over 80, make everything in the space more natural.
● Easy and quick installation, suitable for recessed, suspending, and surface mounting with relevant accessories optional.
Sunsylux focuses on providing you with natural, comfortable, and healthy light. Sky LED panels can be customized in different shapes and sizes, and you can also choose between warm, neutral, and cool white light to meet specific preferences and space needs.
Whether it's a frameless sky LED panel or a frame sky LED panel, Sunsylux has the right option for you. Patterns of sky panel lights are available, please send us the image you are interested in to customize your very own sky panel light.